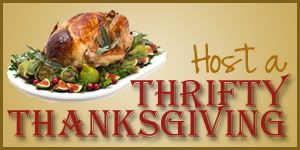 This week, I have teamed up with Saving with Shellie, Bargains to Bounty, and Saving Dollars & Sense to host a Thrift Thanksgiving. We will each share some of our thrifty Thanksgiving recipes to help you save a little money this Thanksgiving.
Check out additional Thanksgiving craft and giving ideas.
This is another one of my mother-in-law's favorite Thanksgiving recipes. She actually makes it with squash, but she told me that you could make it with sweet potatoes too, if you prefer.
Sweet Potato or Squash Souflee Recipe
Ingredients
Sweet Potato or Squash bottom
3 - 4 cups cooked and mashed sweet potato or squash
1 cup sugar
½ cup milk
½ stick butter or margarine
½ tsp. salt
1 or 2 eggs
1 tsp. vanilla
Topping
1 cup brown sugar
⅓ cup flour
1 cup chopped pecans (or other nut)
⅓ stick butter or margarine
Instructions
Mix the bottom sweet potato or squash ingredients and put in a baking dish.
Mix the topping ingredients and spread on top of the sweet potato or squash.
Bake for 30-35 minutes at 350 degrees.
Find more Thrifty Thanksgiving Recipes from this other great site
Or checkout more of my Thrifty Thanksgiving Recipes.