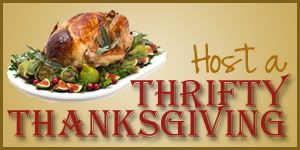 This week, I have teamed up with Saving with Shellie, Bargains to Bounty, and Saving Dollars & Sense to host a Thrifty Thanksgiving. We will each share some of our thrifty Thanksgiving recipes to help you save a little money this Thanksgiving.
Check out additional Thanksgiving craft and giving ideas.
Although it's easy enough to buy Stovetop Stuffing...you could also make your own homemade stuffing with just a little bit of work. My mother-in-law makes this dressing every Thanksgiving...and it's yummy!
The recipe makes a lot of dressing...she usually stuffs a 20 pound turkey and cooks the leftover stuffing in the oven. It feeds at least 8 adults and 9 kids easily with leftovers.
Ingredients:
:: 1 loaf of bread
:: 1 onion
:: 2-3 stalks of celery
:: 1 tablespoon butter or margarine
:: Mrs. Grass' Noodles with Golden Flavor Nugget (you will not use the noodles)
:: ¾ carton chicken broth
:: 2 eggs
:: 2 tsps. sage
:: Salt and pepper to taste
Directions:
Tear the loaf of day-old bread into small bites and chop onions and celery into small pieces. Sautee the onions and celery in butter or margarine. Open the Mrs. Grass packet and mix the 2 flavor packets and Golden Flavor nuggets with ¾ carton of chicken broth and boil together.
Pour the broth over the bread crumbs and add the sauteed onions and celery. Add 2 eggs, 2 tsp. rubbed sage (add more to taste), and salt and pepper to taste. Mix well. If the dressing looks too dry, you can add some additional broth. Stuff the turkey and cook with the turkey in the oven.` If you have leftover dressing to cook in the oven, bake at 350 for about 45 minutes.
Find more Thrifty Thanksgiving Recipes from this other great site
Or checkout more of my Thrifty Thanksgiving Recipes.