This post is sponsored by Savings.com
My boys are both currently obsessed with Fortnite! They love how they can play on their computer and connect with their friends on pretty much any console, computer, or device. That's one of the advantages of playing on a computer - cross compatibility.
But, Fortnite (and other gaming on the PC) can take a lot of computer resources. If you don't have the right gaming computer, the game will appear laggy (as my boys say) and the graphics won't be as crisp as they should be. And in an action-packed game like Fortnite, a laggy game can be the difference between winning and losing!
That's why the HP Omen line of gaming computers are perfect for playing games like Fortnite (as well as surfing the internet, watching YouTube, and completing homework assignments). My personal favorite is the HP Omen 15t Laptop. It's a great value for a gaming laptop that includes all the specs needed to play your favorite games online.
20% Off Select Omen Product Orders Over $1099
Through 6/30, you can save an extra 20% off Select Omen Product Orders Over $1099 when you use coupon code PARTYROYALE. The coupon code includes FREE shipping on your order. That brings the price of my favorite version of the HP Omen 15t laptop down to $879.99 plus tax.
$75 HP Rebate
You can also stack the 20% off discount with a $75 HP rebate on orders over $500 (or $150 rebate for qualifying Business Notebook, Business Desktop, or Workstations purchase). The rebate is valid on orders placed between 6/1 and 7/31/18. After rebate the HP Omen 15t laptop is only $804.99!
#GamewithOmen Laptop Giveaway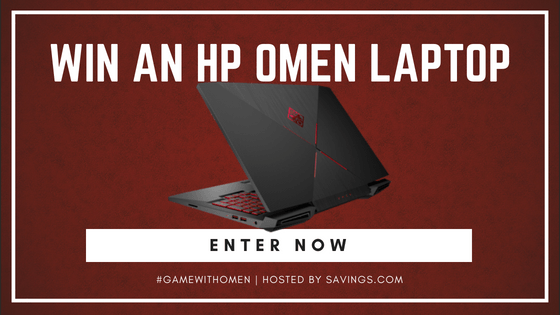 You can enter for a chance to win your very own HP OMEN 17t gaming laptop this week (through 6/22). Just enter the giveaway by heading to the HP page on Savings.com and submitting your email address on the form at the top of the page. The winners will be chosen through a lottery drawing and notified on Monday (6/25) via the email address they used to enter.
#GamewithOmen Twitter Party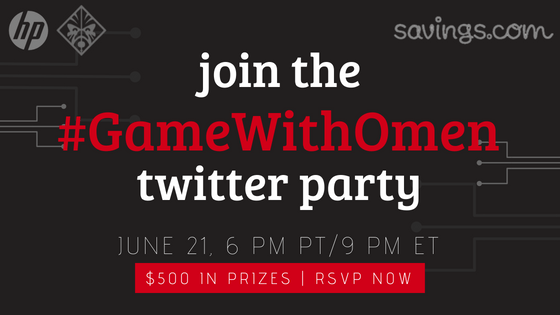 For additional chances to win, you can participate in the #GamewithOmen Twitter party this Thursday (6/21) at 9 pm ET with a chance to win $500 in gift cards from HP. Just make sure to RSVP before you participate in the Twitter party to be entered in the drawings.
What about you? Do your kids (or yourself) love to play Fortnite? Do you have a gaming computer that works great with the game?