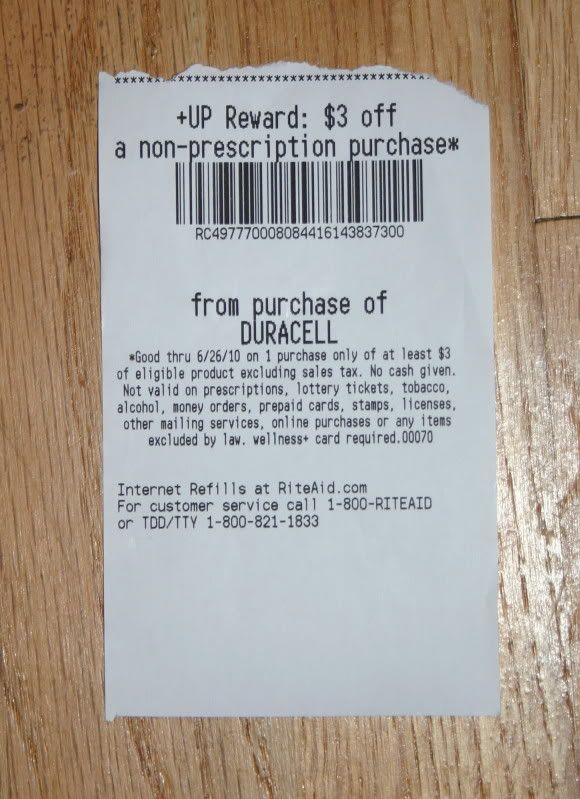 Recently Rite Aid introduced a new program called the +UP Reward program. If you shop at CVS, the program appears to be a lot like the CVS ECB's program.  Here's how it works:
Each week, Rite Aid lists items in the ad that qualify for +UP Rewards.  There should also be a shelf tag next to the item specifying the +UP Reward (similar to the SCR tags).
You will need to use your Wellness+ card to get the +UP Reward (and to redeem the reward).
The +UP Reward will print on the bottom of your receipt (see picture above) when you purchase the specific item/quantity.  Most of the time, you do need to purchase all the items in one transaction to qualify for the +UP Reward.
You can use your +UP Reward to pay for your next purchase.  They will not adjust the reward down and there is no overage allowed, so you will need to purchase filler items to avoid overage.
The +UP Rewards will roll.  Meaning, you could use the Old Spice +UP Reward to purchase more Old Spice and still receive another +UP Reward.
Rite Aid specifies a +UP Reward limit for select items in the ad.  Other items may have a "hidden" limit where the +UP Rewards just stop printing after you've hit the limit.  Plus, your store may impose it's own limit.
Most +UP Rewards expire 2 weeks from the last day of the sale (Saturday).  So, if you shop towards the beginning of the week, you have almost 3 weeks to use your +UP Reward.