This post is sponsored by Sam's Club.
We love to watch football in our house. Whether it's watching my 2 boys play middle school football live or watching college or NFL football on TV, it's one of our favorite things to do together as a family.  As my parents discovered when they were visiting us for New Year's, you really can watch bowl games all day long!
Of course, when we watch big football games on TV, whether it's the college football national championship game, the NFL playoffs, or the Big Game, we usually make and eat snack food (like chicken wings and queso).  Last weekend, we made Tyson wings and had a bowl of peanut M&M's out while we watched some NFL playoff games.  My boys have a new found appreciation for wings and are looking forward to the next time we have them!
But even better, we  love it when we can pick up game day essentials like Tyson wings, M&M's or Skittles, and 5 Hour Energy at Sam's Club at great prices.  It's great to be able to buy everything you need to snack for the big game in one place.
Sam's Club Membership Deal

If you don't already have a Sam's Club membership, now's a great time to join.  New members can get a $20 Sam's Club gift card with a $45 membership through 3/31.  Even if you're already a Sam's Club member, be sure to check your Valpack envelope for additional information on Sam's Club memberships as well as savings available to members.
Sam's Club Membership Givaway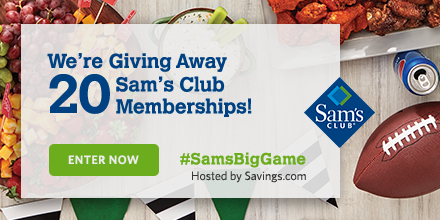 Through 1/16, Savings.com is giving away (20) $45 Sam's Club memberships (worth $900). You can enter by submitting your e-mail address on the Sam's Club page at Savings.com.  Winners will be notified on 1/17.
And if that's not enough, Savings.com is also giving away $500 in prizes during the Sam's Club Twitter party on 1/16 at 9 pm ET.  You can RSVP for the Twitter party here (which is how you're eligible for the prizes).
What about you?  What kind of snacks do you eat during football games?