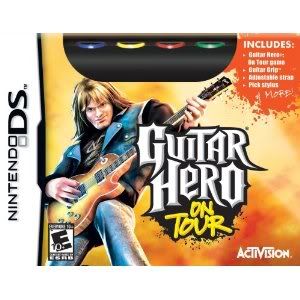 Right now, you can get Guitar Hero: On Tour Bundle for Nintendo DS for only $2.99.  Plus, get FREE shipping when you order 2 or more items, so you could choose another game or get 2 for only $5.98.
Details:
Select from six characters, decking them out with stylish threads and hot guitars earned through success in the in-game venue circuit.
Use the included innovative Guitar Hero DS guitar grip peripheral and the included pick-stylus to strum the touch-activated screen to rock out on the go.
Prove your guitar shredding skills while navigating through a variety of single player modes featuring classic Guitar Hero style note highway gameplay.
Multiplayer options allow you to play Face Off, Pro Face off, Co-op and Guitar Duel together with a friend by utilizing local wireless multi-card play.
Blow into the DS microphone when the touch screen is set on fire in pyrotechnics, or sign an autograph when requested to by an excited fan.
In comparison, Amazon has this game
priced at $11.06. Although, you can purchase Guitar Hero on Tour Decades Bundle
for only $2 (92% off).