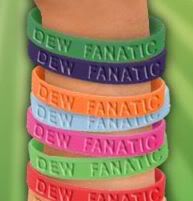 For those of you with a Mountain Dew obsession (or if you know someone who has one), you can request a FREE Dew Fanatic wristband on Facebook through 6 pm tomorrow (7/16).  Just click on the 1 million tab and fill out the form.  If you are not already a fan of them on Facebook, you must "like" them first.
I requested one for my husband, since he's the obsessed one here.
Don't forget: you can also find "Cents"able Momma on Facebook.  We'd love to have you join us.