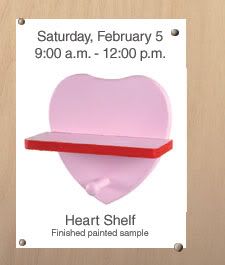 There are several free kids activities this weekend:
Home Depot: on Saturday (2/5) from 9 am to noon, visit your local Home Depot to build a Heart Shelf. In addition to the newly constructed project kit, each child receives a kid-sized orange apron, similar to The Home Depot associates' aprons, and an achievement pin.
Lakeshore Learning Store: on Saturday (2/5), from 11 am – 3 pm, visit Lakeshore Learning Center to create a free Chinese New Year Drum.
AC Moore: visit Saturday (2/5) between 11 am and 5 pm for a "Be Mine" Valentine Event. Learn how to make some "sweet" Valentine-themed events such as: Valentine Drizzled Pretzel Demonstration, Valentine Cards Make & Takes, Cricut "Life's a Party" Party Decoration Hands On Demonstration, Be Mine Mailbox Demonstration, Valentine Pony Bead Make & Take (while supplies last, recommended 5+).
Michaels: visit Michaels on Friday (2/4) between 4 and 6 pm to create a Valentine's Day Candy Holder.  Plus, you can visit Saturday (2/5) between 1-3 pm for a Wilton Valentine Pops Demo or Sunday (2/6) between 1-3 pm for a Decorate a Valentine's Day Box Make-It Take-It (with purchase of a white box).
Archiver's: visit Friday or Saturday (2/5 -2/6) between 5-11pm for six free hours of  scrapbooking and socializing. Pay a $5 reservation fee to save your spot, and when you arrive, you'll receive a $5 merchandise voucher to use that night.
Pottery Barn -visit  Saturday (2/5) 10am for Storage & Organization + Memory Box Crafting Activity. Learn how to remove clutter & tidy up your child's room.  Bring your child along  for a fun crafting activity that will help keep their tiny treasures organized.
Target: Check for FREE museum events in a city near you
Plus, you can visit Parents Connect to find other free activities in your area.