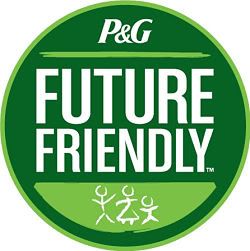 Update: And the winner is…Sherrie.  I have sent her an e-mail, and she has 48 hours to respond with her contact information.  Thank you to everyone who entered!
Did you know that many adults use more laundry detergent than is necessary to clean their clothes?  P&G learned this in a IPSOS Omnibus Survey conducted in February 2011.
So, the P&G Fabric Care brands – Tide, Gain, Cheer and Dreft – have recently introduced compacted powder laundry detergents, which are designed to reduce waste, conserve energy and save water without a trade-off in value or performance.
There are many benefits to the compacted powder laundry detergents for both you and the environment, including:
Convenient product that is easier to carry, handle and store, with the same number of loads per package as the previous non-compacted powder laundry detergents
P&G's compaction of its carton powder laundry detergents can help save up to 22 million pounds of total packaging annually
Saves up to four million GJs of energy each year, or the equivalent of the energy needed to provide 34 thousand average homes with electricity annually
Saves up to three billion liters of water during production and disposal of the detergent each year, or enough to fill up to 1,224 Olympic-sized swimming pools
Giveaway
P&G has offered to give one (1) lucky reader a sample of Tide compacted laundry detergent. You must be a U.S. resident to win.
REQUIRED ENTRY:
1. Leave a comment letting me know which P&G laundry product is your favorite – Tide, Gain, Cheer or Dreft
BONUS ENTRIES:
1. Follow "Cents"able Momma on a reader or via e-mail updates and leave a comment on this post.
2. Follow "Cents"able Momma through Facebook or Twitter and leave a comment on this post.
3. Follow P&G Everyday Savings through Facebook and leave a comment on this post.
You have until Tuesday (5/17) at 11:59 pm to enter the giveaway. I will choose a winner at random, and send the winner an e-mail. The winner will have 48 hours to respond with his/her contact information.
Disclosure: P&G reached out to me to try out Tide compacted laundry detergent and is providing the winner package. I did not receive any compensation to write this post. The opinions are all mine!